Hon. Fred Mifflin, November 6, 1997
36th Parliament, 1st Session
I would like to express thanks and appreciation to the Archives Staff at The Rooms for their help with my research. They were always kind, courteous and accommodating. My nephew, Michael Ward, provided invaluable assistance at many aspects of the internet research and at putting the package together. His advice on content, as well, was a most positive factor. Wally Robinson did some of the original typing. David Macfarlane's book, The Danger Tree, was replete with information on the three fallen Goodyear soldiers and is recommended to anyone who would like to be better informed on these men and on some aspects of the war. Reverend Howard Crooks was always interested and supportive. Thank you to Luz for allowing me to go to St. John's, alone, for seven days to do research. But most of all:
Thank you to our fifteen brave and gallant fallen heroes. You gave your all for us. We love, honour and admire you. We trust that, in our hearts and minds, much more than ever before, you are now, in some small way, something more than a name on a plaque.
Howard Barnes
Grand Falls–Windsor
November 3, 2006
Below is a list of files for each soldier. To view the file you will need Adobe Reader.
Remembrance Plaque
at Memorial United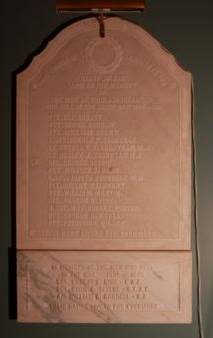 Our church's name's sake is for the fallen soldiers of our congregation who fought in World War I and II. An outstanding plaque is located on the front wall to the right of the pulpit upon entering the sanctuary which contains a list of these soldiers. Click on the link to access a file on each soldier. Thanks to Howard Barnes who spent tireless hours compiling this valuable information.
Every year at the Sunday morning service prior to or on November 11th this list is read out loud by a member of the Royal Canadian Legion.
Royal Canadian Legion, Grand Falls-Windsor