About Us/Contact Us
13 Church Road
P.O.Box 454
Grand Falls-Windsor
Newfoundland, Canada
A2A 2T9
Telephone/Fax:
(709) 489-6151/Secretary's
Office
(709) 489-2156/
Minister's Office
(709) 489-2439/Manse
Fax (709) 489-2156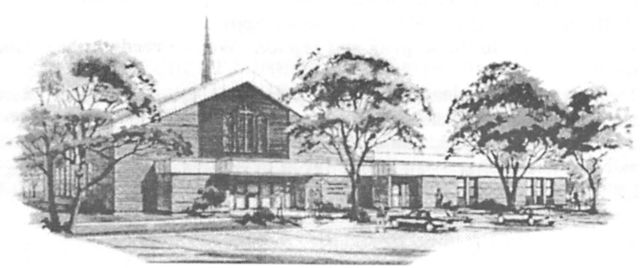 Mission Statement:
As a Christian community on an exciting journey of faith, we strive to follow God's loving ways by growing spiritually, reaching out to all and seeking truth and justice.
Centering Time
"Love one another just as I have loved you." John 15:12
Our Beliefs:
Click here:
Welcome:
Memorial United Church is a congregation of The United Church of Canada. We are located at 13 Church Road in Grand Falls-Windsor, and, as a congregation of over 460 families, has served our town for over 100 years. Our Centennial was celebrated in 2006.
Church Complex:
Our present church complex was officially opened November 11, 1990. The main sanctuary has a seating capacity of approximately 500 people including the balcony area on each side and at one end. This modern facility is wheel-chair accessible and has a Christian Education Centre attached which provides space for youth activities and Sunday School and meeting rooms. It is adjoined by modern kitchen facilities. A Vestry and choir room are located at the rear while the minister's office, church office and nursery are along the front.
Of particular interest is the sanctuary interior, which replicates that of the previous building, now demolished. Altar, organ, communion rail and stained glass windows were painstakingly disassembled from the previous building and re-assembled in the new building.
AE Services Ltd. was the Prime Consultant, Architect, Structural and Site Engineers.
To contact our office secretary or the minister with a message or concern, please fill in the information below.
Finding Us:
If you are travelling on the TCH coming from the west, exit at 17 onto Lincoln Road. Follow until you drive onto Carmelite Road, continue and drive onto Church Road. The church is to your left opposite the main entrance to Church Road Park. Coming from the east, use exit 19 and follow the signs to downtown or Union Street. At the bottom of Union Street, exit to Circular Road and onto High Street, downtown. Continue to the end of High Street and onto Church Road. The church is to your right at the corner of Church Road and Hill Road.