Memorial United Church
13 Church Road
P.O.Box 454
Grand Falls-Windsor
Newfoundland, Canada
A2A 2T9
Telephone/Fax:
(709) 489-6151/Secretary's Office
(709) 489-2156/Minister's Office
(709) 489-2439/Manse
Office Hours

Wednesday & Thursday
9:00 -12:00 & 1:00 to 4:30
To make a one-time offering or to set up regular offerings click on the link below. If you are a member of Memorial United, don't forget to include your envelope # for income tax purposes.
Centering Time
Canada is an interesting place.
The rest of the world thinks so, even if Canadians don't.
– Terence M. Greene
Shipwrecked VBS
at
Memorial United church in Grand falls
offering kids a week long adventure of activities, crafts, snacks, games and friendship that won't cost you a cent!
Drop your kids off and we do the rest.
Shipwrecked is filled with incredible learning experiences kids see, hear, touch, and even taste.
Sciency-fun gizmos, team-building games, cool songs, and tasty treats are just a few of the standout activities we have to offer.
As well as lots of free stuff (who doesn't love free stuff?)
Your kids will be raving about shipwrecked and itching to come back each day!
We are also looking for parent and teen volunteers!
If you or anyone you know is interested, please contact me.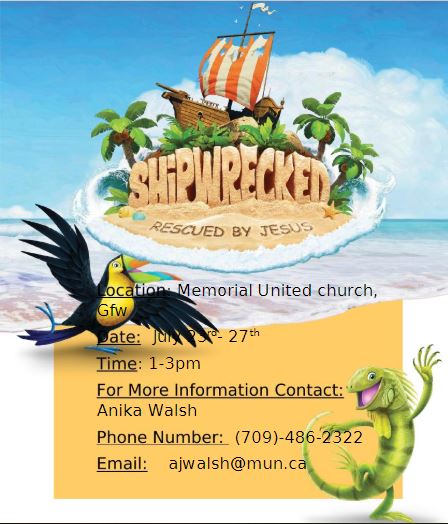 After 2 years of experience with planning and coordinating VBS programs for kids, I have be able to perfect the program and pinpoint what it is that kid love! The program will run everyday the week of July 23rd, and is open to ages 4-12. Registration forms can be found at the memorial United Church or by Emailing Anika Walsh at ajwalsh@mun.ca.
Planting marigolds for the seniors
Some children from our Sunday School gathered at the Carmelite House this morning (June 23, 2018)
to plant the marigold flowers they started (from seeds) on Earth Day last April 22nd, as a Sunday School project.
It was a beautiful morning and we hope the residents will enjoy them.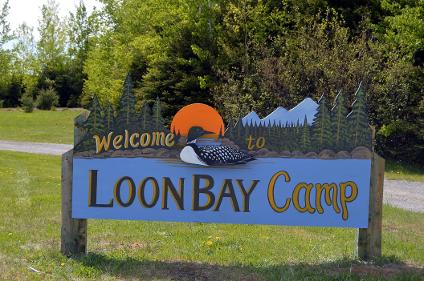 Applications for Loon Bay Camp can be picked up at the Office or call Bonnie Angel at 489-6504
Please don't forget to put your change in the Loon Bay Camp bottle on the table in the vestibule. You can also donate to Loon Bay Camp at any time. Just pop your donation in an envelope and put it in the collection plate or in the box at the office door.
Click Here for Application Form. (Application contains information about Camp)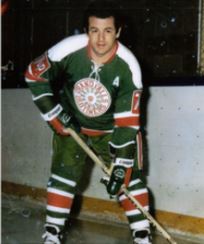 Items for church bulletin
The Church Secretary is asking that all announcements for the bulletins be submitted by Wednesday afternoon.
Shut-ins List
No longer making it out to church, for whatever reason? please call the office with their name and contact information. Reminder: If you are in hospital for any reason, Please have a family member or friend call the office or the manse and let Rev. Kim know! She would love to visit with you, but privacy laws means that she may not know that you are there.