Cancer Relay 2018

This year at the Relay over $52,000 was raised. The top fundraising team was Memorial United Church with $16,384.22. The highest individual fund raiser was Neil Rowe.
We would like to give huge thanks to everyone who supported us this year in the Relay. Thanks to those who dropped by to show their support. Thanks to those who dropped off food-we never go hungry! And thanks to those who came to walk with us. (FYI we recorded walking 913 laps of the stadium.)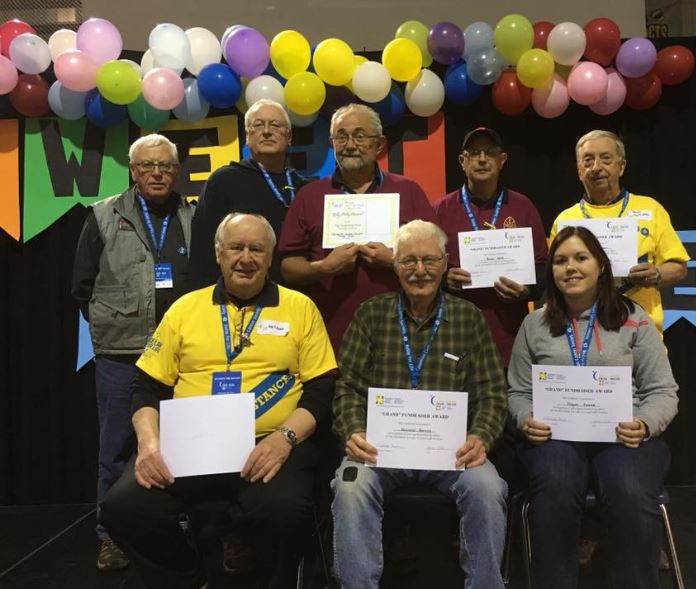 Team members L-R: Front- Neil Rowe, Howard Barnes, Megan Freake. Back- Harold Butt, Dave Stoodley, Dave Anthony, Brian Reid, Scott Gillingham.
2017 Men's Choir Top Fundraising Team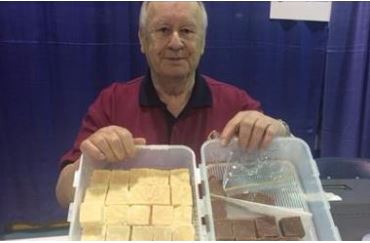 Neil Rowe, this year's Grand Falls-Windsor Relay for Life Patron, sells homemade fudge to raise funds for the Canadian Cancer Society. He sold out at the Chamber of Commerce trade fair last month, raising $450. His friend from the Memorial United Church Men's Choir Relay for Life team, Dave Anthony, sold out of cookies, and they also received $200-$300 in pledges.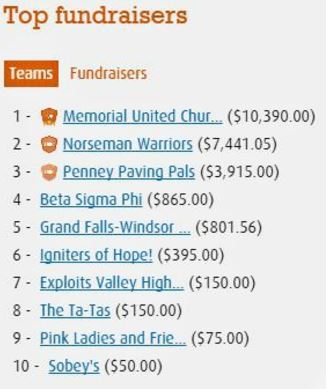 2016 Men's Choir Top Fundraising Team
The Memorial United Church Men's Choir Team consisting of Dave Stoodley, Neil Rowe, Scott Gillingham, Howard Barnes, Ray Penney, Dave Anthony and Verlie Roberts was the top fundraising team for Relay 2016, raising $14, 400 . Six of the team members were "grand fundraisers" - each raising over a thousand dollars. Neil Rowe was the top fundraiser for the whole event, raising roughly $4500. The team walked 600 laps which translates into 120km, with the help of a few enthusiastic visitors from the congregation. (see photos) Thank you to all who supported the team with sponsorship, assistance with the laps, contributions of food and visits to the stadium. The top five teams raised in access of $38,000.
Dave and Melinda Anthony photos
2015:
Another Successful Relay For Life
for the Men's Choir Team
We achieved GOLD status this year with a tremendous effort to raise a total of $12,402 to help cancer patients in NL! Neil Rowe had the second highest fundraising effort for the Relay with almost $5000 raised! Four members of our team raised over $1000 each (Neil Rowe, Dave Anthony, Howard Barnes and Dave Stoodley). We would also like to recognize Harold Butt who walked the greatest number of laps on our team with 166 laps. And Merricks Chipp who came second on our team with 134 laps! We also would like to thank all those who made the effort to come to the stadium to support us by bringing food, coming over for an encouraging chat or walking a few laps for us. Thanks to all who helped in any way. Your efforts will go a long way towards improving the lives of others.
The event was held at Joe Byrne Stadium in Grand Falls-Windsor on Saturday, June 6, 2015, from 12 noon to 12 midnight.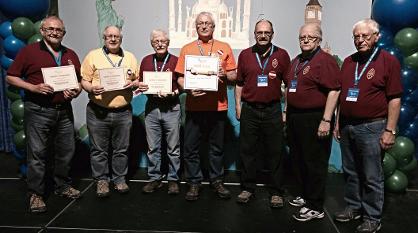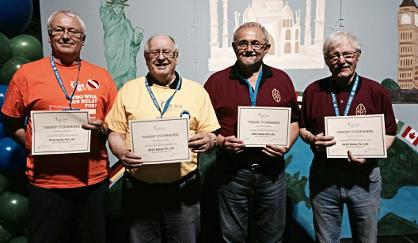 Cancer Relay for 2014.
Goal $12,000. Amount received was $13,389, placing Men's Choir Team in first place for team amount and second place in per members on team.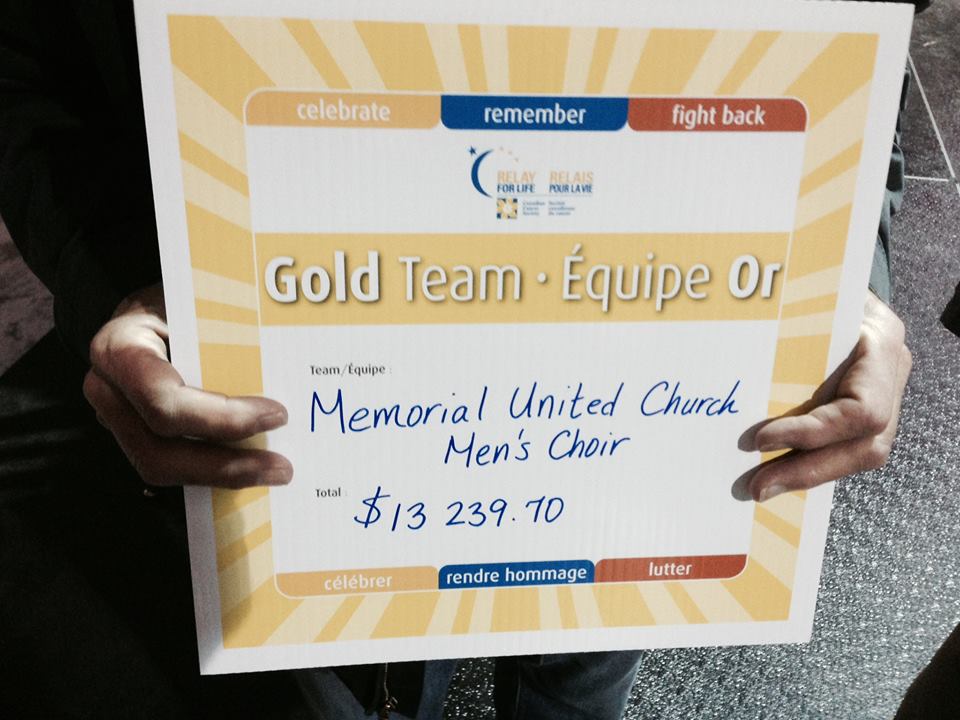 From 2008, Howard Barnes and Dave Anthony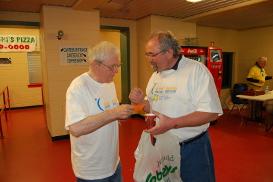 IN 2012 OVER 17,265 TEAMS RAISED $51 MILLION ACROSS CANADA